fiction - first published in 2009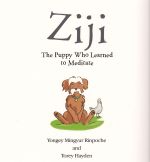 A very special book for children aged 4 to 8 written by Torey and Tibetan lama and meditation master Yongey Mingyur Rinpoche which, along with the story of Ziji's adventures, includes an appendix for parents and teachers with suggestions for using meditation with young children.
Ziji is a noisy, bouncy puppy who lives with the Anderson family – Mom, Dad, Jenny and Baby Jack.
He loves to bark and play and – most of all –chase pigeons in the park.
Then one day Ziji sees the new boy from Jenny's school, Nico, sitting in the park. What is Nico doing? Why does he look so calm and happy? Ziji can't wait to find out.
Author's Notes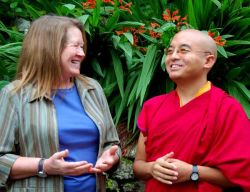 Torey knew nothing of Yongey Mingyur Rinpoche before the summer of 2006, when she was asked if she could give him a ride from Heathrow Airport in London to the Tibetan monastery, Samye Ling, in Scotland. During the course of the six-hour journey Mingyur Rinpoche talked about young children's natural ability at meditation and how helpful it was to learn this skill of resting the mind while still young. He had come up with the idea of Ziji, the meditating puppy but didn't know quite how to write it. From that long road journey has come a very special collaboration. Prior to their meeting, Torey had no formal training in meditation, but had long experience of using relaxation exercises and visualizations in her therapeutic work with children. She has since gone on to study with Yongey Mingyur Rinpoche and now teaches formal meditation at Samye Ling herself.
Yongey Mingyur Rinpoche and Torey have now collaborated on a second story, which will be published in 2012 called ZIJI AND THE VERY SCARY MAN.
In the UK this book can be purchased online from the shop at Samye Ling or it can be ordered through bookshops.
In the US this book can be purchased online from Tergar International or it can be ordered through bookstores.
It is also available in Chinese, Indonesian, Czech, Russian and French.