non fiction - first published in 1983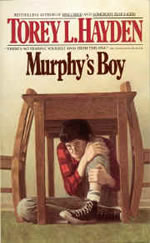 His name was Kevin but his keepers called him Zoo Boy. He didn't talk. He hid under tables and surrounded himself with a cage of chairs. He hadn't been out of the building in the four years since he'd come in. He was afraid of water and wouldn't take a shower. He was afraid to be naked, to change his clothes. He was nearly 16.
Desperate to see change in the boy, the staff of Kevin's adolescent treatment center hired Hayden. As Hayden read to him and encouraged him to read, crawling down into his cage of chairs with him, Kevin talked. Then he started to draw and paint and showed himself to have a quick wit and a rolling, seething, murderous hatred for his stepfather
Hayden writes very readably. Though Kevin must have been scary, he is rarely scary to her and this is not a frightening book. It is reassurance we all need. In the wreck of this world, love still works. We can heal each other, if we listen.
Christina Robb
Author Notes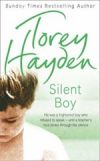 MURPHY'S BOY (SILENT BOY) remained Torey's favorite book for many years.
"I felt I had found my writing voice with MURPHY'S BOY, " she says.
"My youth showed a little too much for comfort in ONE CHILD and I would completely re-write SOMEBODY ELSE'S KIDS, if I had my choice."
Where are they now?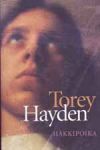 Torey has lost track of Charity.
Now in his thirties, Kevin is leading a successful and fulfilling adult life. He has sent the following message to readers:
Hi. I'm the person who was Kevin in Torey's book, MURPHY'S BOY, and I want to say that things are okay for me now. I graduated from high school and then I went to community college for two years. I got a job in a hospital after that and I am still working in the same place. I like it very much.

I got married to my wife Sue after college and we have a wonderful little boy named Daniel. He is the most important thing in my life and I try to be a good father to him. He is a happy boy who loves baseball so I think we are doing a good job with him.

Now we also have a second son who's name is Matthew.
Jeff is now in his fifties. He still lives in California and continues his work as a psychiatrist.
Thanks to everyone who is interested in what became of me. Torey and I had some spectacularly exciting times together. Lots of fun. Lots of laughs. Torey's sense of humor transformed those years for me. I've had fulfilling, meaningful years since but I've still never laughed as much.

I've had a pretty good life. I'm in a long-term relationship with my partner, Bill, and we have a 10-year-old adopted son, Charles. I have moved, career-wise, to working with people suffering from sociopathic and severe psychotic disorders. It is demanding work but very gratifying.
I hope everyone enjoys Torey's web site I've read through it and it makes me feel just like I'm back there with her. Believe me, Torey writes just like she speaks, so this is pure Torey. Enjoy!
Murphy's Boy
available from amazon.co.uk